Is Your Business Burning Money on Commercial Vehicles?
---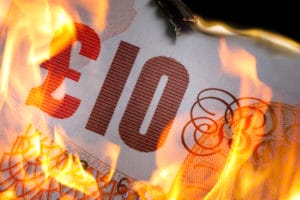 Regardless of the business, there will be times when a vehicle is an essential asset for a business to have. However, some may be spending more than they need to when it comes to operating the vehicle, especially if the warranty has recently expired.
When looking for a commercial vehicle, it stands to reason that many will need to obtain a vehicle via credit, but this doesn't mean business owners should settle for the first offer that comes their way.
To understand why, we need to look at how much it costs to run a commercial vehicle, and how the choices we make when acquiring a vehicle could affect how much we pay in the long run.
The cost of running a van is around £90 per week
For example, the average lifespan of commercial van is around seven years, with running costs averaging at around £90 per week (excluding petrol and insurance costs). Given the approximate lifespan of the vehicle, it's easy for business owners to assume that the cost will reduce once the credit has been paid on the vehicle. However, many don't consider the out-of-pocket expenses that can incur, mainly due to the warranty running out after three years.
We also must factor in that the older the vehicle is, the more likelihood that repairs will be needed.
Although some business owners may consider putting cash aside, this isn't always the best safeguard, as many find that these funds can be depleted quickly, especially with other older vehicles.
Even the savviest business owners may not be prepared for unforeseen repairs
There's also other expenses to consider. Although some may be using a vehicle in a more conventional sense, there will be others who need access to specialist vehicles quickly, such as freezer vans.
The costs associated with catering vans can stretch to much more than the vehicle alone, meaning that even the savviest business owners may not have the capital available when vehicle repairs are needed, especially a specialist vehicle such as a chilling van.
In most instances, business owners won't consider the benefits of checking what finance options are available, as they will be keen to obtain another vehicle as soon as possible. This not only means a business could be overborrowing, but also paying more interest.
Knowing the pitfalls of not shopping around for finance is one thing, but where do those in the catering trade turn to find a deal that's not only cost-effective, but also going to serve them well when it comes to the maintenance of the vehicle?
A solution that offers the perfect balance
GRV4FridgeVans recognises that the applying for finance each time can mean those in the catering trade find themselves in a vicious circle, especially with so many sectors of the business to manage.
As such, it offers a solution that offers the perfect balance, ensuring that chiller vans aren't breaking down when you need them, and even if they do, there will be an active warranty in place, which ensures a timely repair is carried out, at no additional expense to the business owner.
GRV4FridgeVans balances its finance options so it ties within with the warranty, meaning that you're never relying on a vehicle that's been put through its paces and is likely to break down.
It can be easy to assume that the most cost-effective way forward is to keep our old vehicle going for as long as possible, but repairs can be expensive. Obtaining a freezer van using a more tailored approach ensures that you're getting all the benefits in relation to savings, while being safe in the knowledge that should any breakdowns occur, you're able to rectify the situation sooner rather than later.
Find out more about GRV Financing options
Take a look at our stock of Fridge and Freezer Vans