The New Ford Transit Van
---
There's a reason that Ford vans are popular with the nation's workers. Reliable, sturdy, roomy and powerful, these are vehicles that always deliver. The new Ford transit van, however, now combines a powerful and efficient engine with today's smart technology.
If you are looking for a work van that ticks all the boxes at a price you can afford, this is well worth a second look.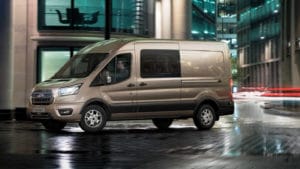 Van Performance and Engine
Ford say this is their most powerful and eco-friendly van to date and it's difficult to argue with that statement. The 2.0L Eco-Blue is state of the art and comes with the option for 4 powertrains, including up to 185 PS of horsepower. There's also the additional option to get the new Ford transit van as an electric hybrid which not only helps save the planet but will lower fuel costs. It's also a lot quieter than many diesel vans on the market today.
Van drivers and companies will also be concerned about emissions, particularly in areas such as London. The good news is that Ford have this covered. Their AdBlue® system converts NOx fumes to nitrogen and water. This combines with a filter that gets rid of 99% of particulates emitted from the exhaust.
For greater efficiency, models also come with accelerator control and a 6-speed transmission. With the mod-cons that you expect from new vehicles today, there's a DAB radio and USB port as standard.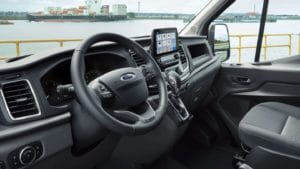 Van Interior
If you're looking for maximum carrying space, the van is available in medium, long and extended wheelbases, the latter with a high roof capacity of 15.1 cu m. The Double Cab-in-Van model has the potential to take seven passengers but has a much reduced back storage capacity, though this is greatly improved in models with an extended wheelbase.
There's nothing much new concerning the dash layout and seating for the new Ford Transit van and there's a full-width overhead shelf to store personal items as before. DAB radio, Bluetooth and USB ports come as standard with the power to add parking sensors and state of the art air conditioning if you want to pay a little extra.
Passenger space and boot capacity
Capacity will depend on your requirements and what industry you work in. Weights vary from 2.9 to 4.7 tonnes which means the van can carry just about anything you want. A taller roof means that there's a 10% increase in load volume though this is still a little smaller than some competitor vans in the same category. The largest van has a load volume of 15.1 m³ and the 3.5-tonne model can carry up to 1,450kg.
Maximum Load Length
Short Wheelbase: 2900 mm
Long Wheelbase: 4073 mm
Standard Height: 1786 mm up to a max of 2125 mm
Maintenance Costs
Better fuel efficiency and a commitment to reducing the level of maintenance required particularly for areas like the brakes means that owners can expect good value for money. Even if you hammer your new van on the road, it should be a while before it needs anything major doing to it.
Driving Experience
If you like your van drive to be accompanied with safety features such as dynamic cornering control, hill start assist and emergency brake warning, then you'll be impressed with the new models. These features all come as standard with the ability to add others such as load adaptive control.
The responsive steering and smooth, quiet ride are probably more important, especially if you spend a lot of time on the road. The gearbox does require a firm hand at times but the fuel efficiency and solid engine make up for this.
Available in a wide range of different models, the capacity to tailor the specs to meet your exact needs means that the new Ford transit van certainly hits the mark as one of the best all-round vans on the market today.
Find the right van for your business with our VANALYZER tool.
Take a look at our stock of Fridge and Freezer Vans