The GRV4FridgeVans Process?
---
We know that buying a new converted fridge or freezer van is a big investment for most businesses. You want to know that you are getting a good deal for a start and the right vehicle for your needs with all the functions that are required.
With more than 30 years' experience handling refrigerated van sales and leases across the UK, we currently offer a wide range of vehicles of all sizes. We're specialists in this area (it's all we do) so you can be doubly sure that you're getting a dealer that really knows what they are talking about.
What we don't know about fridge and freezer vans can probably be written on the back of a post-it note!
One question that we often get asked by customers is what our order process is. To help, we've put together this quick step-by-step guide of how we do things. We hope you find it useful.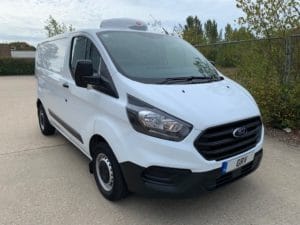 First of all, the majority of our customers tend to contact us first by telephone. The number is 01444 245555. If you want to log a query online, however, you can do so by filling in the contact form on our site and we'll get right back to you. You can also speak with our professionals using our online chat!
Once we've got you on the phone, we start by looking in more detail at your requirements. This will include:
Giving advice regarding the size of van that you need for your business. This often depends on what the load requirement is. For example, if you're a butcher that delivers meat to local restaurants you might want a van that can take pallets or even has meat hangers inside.
We'll also look at the kind of products that are being transported as this will help determine what kind of temperature control you are going to need in your refrigerated van. This is something that varies quite a lot from business to business and it's where our expertise is most useful.
If you are a customer that needs a freezer van (i.e., one that goes below 0°C), we'll ask you a lot more questions as this is generally a highly bespoke area when converting a van. If you want your van to be perfectly tailored to your needs, we essentially need to know much more.
Once we've understood your requirements and what features need to be included and you've chosen the van you need for your business, we can move onto the issue of payment and delivery.
The first thing we'll do is look at the timeframes and give an estimate of when we can deliver the van. This will include the period it takes to convert the van with its new insulation and refrigeration system
As the customer, you will then pay a small deposit to secure the van.
Once this is received, the van is taken off sale and to the workshop where it is converted to a fridge/freezer van based on your specific requirements.
Once the job is near completion, we will invoice you. If you are using financing or leasing through us, we'll implement this.
When payment has gone through, one of our professional drivers will deliver your vehicle to you free of charge (we can deliver anywhere in the UK).
At GRV4FridgeVans, we aim to make the buying process as quick and simple for our customers. If you have any problems at all when you have received your new van, you can contact us at any time and we'll be glad to help.
Find the right van for your business with our VANALYZER tool.
Take a look at our stock of Fridge and Freezer Vans