The Mercedes-Benz Vito Panel Van
---
The Mercedes-Benz Vito has been around for a few years now and is a reliable panel van with plenty of options available. The latest iteration of the Vito is an attempt by Mercedes to dispel some past negative perceptions over price and maintenance that have dogged the brand since it first came on the market in 2015.
Van Performance and Engine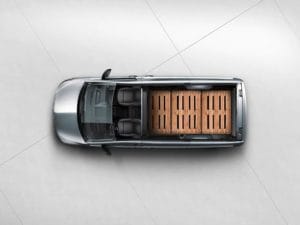 When it comes to engine size, the options range from the 1.6L which can deliver 113bhp up to 2.1L and a maximum of 188bhp. Compared to some other models on the market, the Vito panel van seems a little firm in the suspension stakes but it's a vehicle that handles well whatever the load being carried. It's also the only van in its class that offers both front and rear wheel drive as options.
As you might expect with a modern vehicle, a lot of attention has been paid to fuel efficiency and clean driving. The eVito is one option with a range of 93 miles on a single charge. The BlueEFFICIENCY package is available on all rear wheel vans and includes ECO start/stop. Fuel efficiency ranges from 42.8mpg to 36.2mpg depending on model and emissions on all options meet Euro 6b standard. The van also comes with various safety features such as blind spot, lane keeping and attention assist.
Van Interior
Because this is a Mercedes-Benz, there's no surprise that the interior of the Vito is put together well. You get three open storage compartments and the standard seats are solid if unremarkable. You can, however, choose to upgrade to the adjustable comfort seats as well as a steering wheel that can be adjusted for rake and reach. 12 buttons on the multi-function steering wheel give all the control you need without having to reach.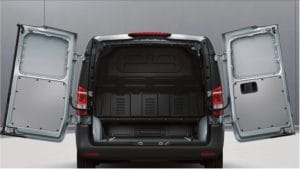 The vans come with audio system, USB ports, Bluetooth and tyre pressure monitors as standard. Premium Vitos also come with state of the art air conditioning and anti-theft protection as well as a reversing camera. The loading compartment anchoring floor has tie-down eyelets and there's the option to use side and rear doors.

Passenger capacity and boot space
The Vito is available in wheelbases from L1 through to L3 and can be a people carrier or a traditional loading van. If you're looking for a van that carries a maximum payload then you need to go for rear-wheel drive models (the front wheel drive vans are about 120 kg lighter).
L1 vehicles have a maximum load length of 2,586mm and a cargo volume of 5.5m³. The L3 has a max load length of 3,061mm and a cargo volume of 6.9m³. Compared to other models in this category, there are no options for higher roofs and the load volumes remain about the same as previous versions of the Vito. The maximum payload capacity is 1,369 kg.
Maintenance costs
The price of the Vito, especially for front wheel drive versions, has come down and the general running costs are comparable with other models in the same category. The cost of replacement parts can still be expensive which might be an issue as the van gets older. This is compensated for by having some key tech as standard such as a multifunction steering wheel, hill start assist, and cruise control.
Driving Experience
Available in diesel and electric, the Mercedes-Benz Vito panel van delivers a quiet and comfortable ride. The option to add technology such as rear camera, seats with lumbar support and state of the art air conditioning can all improve driver safety and comfort. The rear wheel drive vans offer more options for customisation than the front wheel drive.
Overall you can expect fairly sharp handling and responsive steering though the suspension can feel a little more rigid than some other models in this category.
Find the right van for your business with our VANALYZER tool.
Take a look at our stock of Fridge and Freezer Vans